HSEQ Bulletins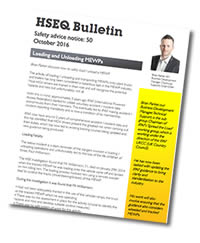 Health & Safety is a cornerstone of the AFI group of companies, and we are committed to promoting good Health & Safety practice to our customers and the wider market. As part of our team we have a number of experienced Health & Safety professionals who are active members on a number of IPAF committees. We are also an active member of a number of industry forums and discussion groups committed to safe practice in the use of MEWPs.
As part of our strong commitment to Health and Safety we produce HSEQ bulletins. These bulletins give news, views and updates on Health, Safety, Environment and Quality topics, please see below for previous issues.
Mental Health crisis highlighted at Hinckley Point C
October 2019
When will we get working at height right?
June 2019
Asbestos failings lead to exposed workers
April 2019
The new sentencing guidelines for gross negligence
December 2018
Accidents and Fatalities at Work
April 2018
The New BS 8460:2017 Code of practice for the Safe use of MEWPs
January 2018
Guidance on Engine Emissions for Mobile Elevated Work Platforms in London
October 2017
Guidance on managing the safe condition of Mobile Elevated Work Platforms
July 2017
Whirlpool Fined
April 2017
Loading and Unloading MEWPs
October 2016
Exiting a MEWP at height
August 2016
Wander Leading MEWPs
May 2016
Ground Conditions and Spreader Pads
February 2016
To view all our previous HSEQ bulletins please
click here