Longer term hire rates (AF20)
At AFI-Uplift, we pride ourselves on putting customers first. We are always looking at ways to improve our hire experience, whether it's the AFI App, our Online Portal, or our award-winning familiarisation videos, and our hire rates are no exception.
Our standard rates give our customers the flexibility they need for most jobs, but for many customers, their work projects are over many weeks and months, with many hires almost a month long. Because of this, we decided to create the new rate which we call AF20.
This new rate will potentially save you money when you hire from us for 20 days or longer when compared with the standard weekly tariff. It combines the flexibility of our standard rate with the consistency of our bespoke contract hires.
In Summary:
What you get from hiring from us for longer term durations:
1. It gives you the consistency and stability you need to hire with confidence
2. No penalty for ending hire early - just pay the remainder of the hire duration
3. Could save you money when you hire for 20 days or longer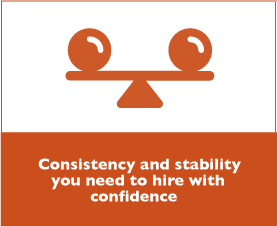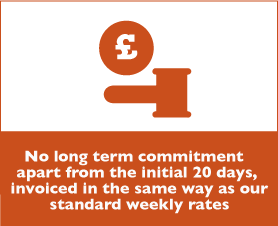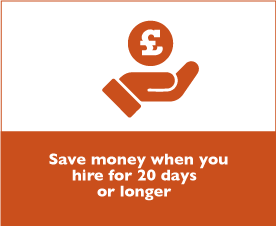 If you are looking at hiring from us for 20+ days, please ask about the AF20 rate.