Safety when working at height, innovation and mental health were the three key themes of a Driving Innovation Day organised by AFI for delegates from the construction industry.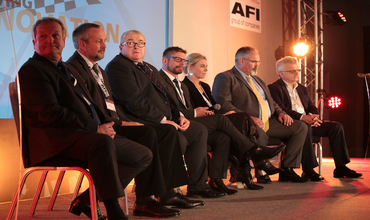 Held at Whittlebury Hall, next to the Silverstone racetrack, the event featured a wide range of speakers and several innovative products were on display.
Speakers
Ray Cooke, the HSE's Principal Inspector, told the audience that the number of fatalities in the construction industry and the costs of accidents was an "untold and unsold issue" in respect of health and safety.
"In the year June 2015/2016 there were 144 fatalities and £14.1 billion costs for accidents and ill health. People talk about the cost of putting health and safety measures in place but they don't talk about the cost of accidents. Work at height remains the biggest single cause of deaths and major injury accidents," he said.
Mr Cooke gave examples of prosecutions and scales of fines and said the penalty is linked to turnover not profit. For a company with a turnover of £2m to £10m that was judged to be highly culpable the starting point of a fine was £400,000 and it could go up or down from there as the court considered aggravating or mitigating features.
Chris Wraith, of Access Safety Management, guided guests through changes to the BS 8460 safe use of MEWPs Code of Practice which is due to be published shortly. Areas featured in the changes include deck riding, primary and secondary guarding definitions, enhanced risk assessment tables, loading and unloading transport vehicles, self familiarisation, modifying a machine or fitting additional devices to it, trapping or crushing, minimum safe distances, and working near electricity and non-ionizing radiation.
Paul Roddis, IPAF Training Manager, outlined to guests how IPAF is committed to empowering teams with new learning technology. He explained how humans learn, including how 70% of learning is through problem solving. He gave an insight into how improved graphics and simulations would aid learning.
Ignacy Puszkiewicz, who leads JLG's Advanced Technology and Industrial Design departments, said we were living in very exciting times of change. Innovations being explored by JLG included real-time self levelling chassis, evolution of control boxes, simplification of controls, the introduction of point and go control, and giving MEWPs increased 'situational awareness' by adding more sensors. Such sensors could even generate safety zones of operation, he said.
Kris Atkinson, Technical Director of Bimstore.co.uk, said that with the introduction of BIM (Building Information Modelling) the construction industry can be digitised to reduce risk and save time, effort and cost. He told guests that BIM was the biggest change that the construction industry has ever seen. "You can now put your client in a building and walk around the building before a brick has even been laid."
He outlined the many benefits of BIM including providing accurate geometry and representation of products to ensure that the right product is supplied for the available space, and providing direct links to associated literature and technical documents relating to the product.
Mental Health
Guests at the Innovation Day were somewhat shocked when a woman wearing only a bed sheet walked through the audience and went up on stage apparently drunk. But all was not what it seemed! Emma Currie was acting out the role of a woman whose partner had been seriously injured at work – and she was portraying the devastating effects it could have on family life.
AFI has featured Emma's performance in behavioural safety training sessions for employees throughout the group to give them further food for thought about the consequences of overlooking health and safety.
David Bickel served in the Army for 23 years, mainly in a bomb disposal role, and during that time saw active service in some of the world's major trouble spots – Northern Ireland, Rwanda, Bosnia, Kosovo, Afghanistan and Iraq. But some of the things he saw have come back to haunt him, and after leaving the military he was diagnosed with Post Traumatic Stress Disorder (PTSD). As well as being a Safety Health and Environment Manager with a major construction company he is now a Mental Health Champion within his place of work.
He told guests at the Innovation Day that you don't have to have served in the military to suffer from PTSD. Anyone who has experienced a traumatic event can get it.
"With PTSD you can lose everything. You suffer flashbacks, feel angry and push your family and friends away. You can be afraid to sleep and you drink a lot. Many people have thoughts of suicide."
He was able to get help and his message is for anyone else who is suffering from PTSD to do the same. Medication, counselling and behaviour therapy can all make a difference but employers need to be aware of mental health issues, he said.
Martin Coyd MBE, Head of Health & Safety at the Mace Group, outlined some chilling statistics:
• 1 in 4 people will have a mental health problem.
• 454 people in the construction industry committed suicide this year
• 81% of all suicides are male.
• War used to be the biggest killer of young men, but now they are killing themselves.
• The highest number of deaths are in the 45 to 55 age group.
His message was that we had to do more to combat this problem. We needed to show leadership commitment, communicate, educate through structured training courses, and provide clear pathways for help and support.
INNOVATION ON SHOW
Examples of innovation on show at the Innovation Day included a secondary guarding system for Skyjack scissor lifts, a JLG virtual reality simulator, a hybrid Genie boom lift, and a net system to catch tools and fixings dropped from scissor lifts.
Skyjack Scissor Lift Secondary Guarding
Skyjack showed how secondary guarding could be incorporated in a scissor lift by displaying a concept that relies on two elements:
• A shroud over the controls reduces the risk of unintended actuation by preventing the operator from falling onto the joystick.
• A secondary enable button: both enables must be activated to allow the machine to rise, so the operator has to use both hands – this keeps his body away from the guardrails when rising, reducing the risk of entrapment. The additional enable button is not used for lowering the platform or for driving it.
The device is suitable for all Skyjack scissor lifts and vertical mast models. Skyjack – who developed the concept after being approached by AFI about the need for secondary guarding in scissor lifts – is now gauging feedback from guests.
JLG Simulator
Visitors to the Innovation Day were able to experience what it's like to be high up in a platform without even leaving the ground – thanks to a JLG virtual reality simulator that was on show for the first time in the UK.
JLG will be using the simulator as a training aid. By wearing VR goggles, the company's employees can experience all aspects of a MEWP, from carrying out maintenance and service checks through to being elevated in the platform.
Genie Boom Lift
Genie displayed its Z60-37FE boom lift, which offers the choice of two modes of operation – full electric or hybrid. In full electric mode and with its reduced noise characteristics, the machine is particularly suitable for indoor areas where quieter and cleaner operation is required.
Switch to low emission hybrid mode and you can work outside making full use of the machine's rough terrain, 4 wheel drive system. The Genie Z60-37FE has a working height of 20.16m, a horizontal outreach of 11.15m, and 7.39m up and over clearance.
Scissor Lift Net System
Also on display was a net system designed to catch tools and fixings dropped from scissor lifts. AFI has worked closely with Blandford Engineering to develop the system, and manufacturer approval is now being sought through Skyjack.