Billy-Jo Davies, Senior Hire Desk Controller at AFI's Wakefield depot, has won the Hire Manager of the Year award in the Hire Association of Europe (HAE) Excellence awards.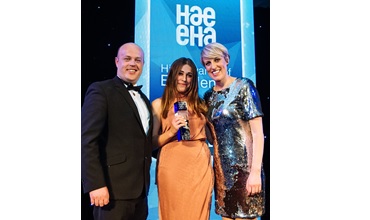 The judges said that the Hire Manager award had been extremely competitive and they had spent more time deciding on the winner for this award than for any other of the HAE awards.
The judges were unanimous in their view that Billy-Jo demonstrated the true attributes of a leader. They said: "The detail in this entry demonstrated everything a Hire Manager should be."
Divisional MEWPs Operations Director Donna Hall said: "Well done to Billy-Jo. Since joining AFI as an apprentice she has shown a willingness to take on new responsibilities and has performed well in all stages of her career development."
As well as winning the Hire Manager award, AFI was also shortlisted in two other categories – Rob Ashton (Peterborough depot) for Apprentice of the Year, and Mike Millar (London East depot) for Workshop Manager of the Year.