AFI has been shortlisted in four categories of the 2018 Hire Awards of Excellence, organised by the Hire Association of Europe (HAE).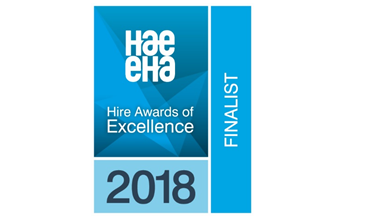 • Charlotte Spencer, who works in Support Services for AFI, is a finalist in the Apprentice of the Year category
• Matt Stonall (London West depot) has been shortlisted for Workshop Manager of the Year
• Sarah Gray (North East depot) is in the finals of the Hire Manager of the Year category
• AFI has reached the finals of the Plant, Tool & Equipment Hire Company of the Year award.
The HAE winners will be announced at an awards ceremony in London on 28 April.