The AFI Group of Companies has announced its latest HSEQ webinar on May 22nd at 10.30am.The Webinar will be presented by Brian Parker, Business Development Manager, Technical Support, AFI Group.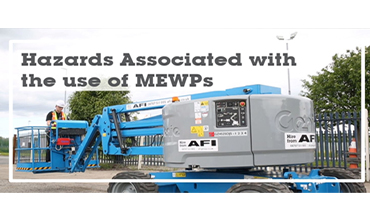 About the Presenter - Brian has held senior health and safety roles within the working at height sector for nearly 20 years, including 15 years as a senior IPAF training instructor. He is an IPAF UK Council member and Vice Chairman of the PASMA training committee. He is now a current member of IPAF training committee, as well as being an active member of the Strategic Forum Plant Safety Group MEWPs committee.
About the Webinar - The most common hazards when using MEWPs will be discussed. This will include delivery, transporting, positioning, use and maintenance of MEWPs which is identified in the BS8460 Code of Practice - Safe Use of MEWPs. Attendees can register for a recording and learn and fully understand how to avoid common hazards with MEWPs Including:
Understand how to safely operate and the maintenance of MEWPs.
Refresh industry knowledge.
If you are new to Powered Access, this will be ideal to make you aware of common hazards and how they can be avoided.