AFI-Uplift and Wilson Access, both part of the AFI group of companies, deliver the height required for Swindon Town FC at their ground The Energy Check County Ground Stadium.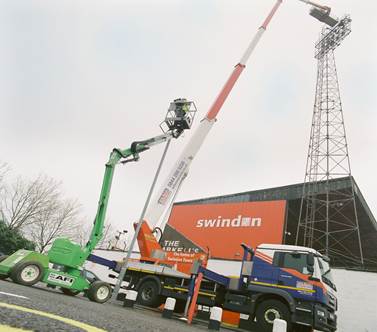 Swindon Town FC needed the truck-mounted boom to install additional and make necessary adjustments to the current flood lighting, which would enable the club to further improve the LUX lighting levels, the main aspect of the work was to improve the uniformity on of lighting levels in the stadium.
Glinn Hambidge from AFI-Uplift was there day and night throughout the challenging project. He said:
"During this project, the lighting rig at the stadium was moving about in the wind, the weather wasn't on our side, so we remained on-site and the job was delayed until the wind settled, then we went up, and adjusted the lights. "
The whole team was working against the clock, to make sure all necessary improvements was made for the following game!
Mark Isaacs Chief Operating Officer from Swindon Town FC said:
"Right from the outset, AFI met all our requirements, from coming out a few weeks before, to survey the site and making sure we had the right access machines for what we were proposing to do. We were undertaking works on our floodlight towers, quite a large job and needs the right machinery from a height and reach perspective. AFI were here on-site and ensured that we were able to achieve our objectives. There were some challenges. There was an increase in the wind direction and speed, so the teams from AFI and Wilson Access ensured we were able to move the timings and machines around to safely carry out the works within the original timeframe."
The 45m truck mount and operator from Wilson Access was recommended because of its versatile height and outreach. The 45m truck is a high spec machine, with a horizontal outreach up to 28.7m and the telescopic jib offers fantastic versatility.
Stanley Fire and Security were using a boom lift from AFI-Uplift to test and service the emergency lighting and CCTV on the ground. They used a Niftylift HR12 bi-energy because of its compact dimensions, versatility and reliability. It's one of the most complete 12m (40ft) self-propelled boom lifts available. Its telescopic upper boom provides accuracy when positioning the platform. The narrow chassis, just 1.5m wide, made it perfect for working in restricted space.
As the official Powered Access Supplier to Swindon Town FC, AFI-Uplift have an excellent and longstanding working relationship with the club and they call upon the expertise within the AFI group of companies for all their powered access requirements.