We have retained the top 5 Star Achilles BuildingConfidence rating for the fourth consecutive year and have also been awarded re-accreditation from Safecontractor for our commitment to achieving excellence in health & safety.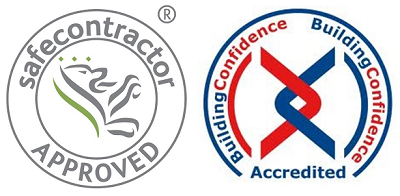 BuildingConfidence
Five stars are only awarded to suppliers who comply with all aspects of BuildingConfidence for two or more consecutive years. To gain the general accreditation, companies have to demonstrate a high level of competence in the following areas – health & safety, quality assurance and control, environmental management, business continuity, sub-contractor and supplier management, social and ethical controls, and plant and equipment management.
BuildingConfidence is recognised as the standard for supplier excellence within the industry. Major contractors use the service to evaluate their supply chains, drive up performance and forge long lasting relationships with key suppliers.
Safecontractor
Safecontractor is a leading third party accreditation scheme which recognises very high standards in health & safety management amongst UK contractors. John Kinge, Technical Director of Safecontractor, said: "Major organisations simply cannot afford to run the risk of employing contractors who are not able to prove that they have sound health & safety policies in place.
"More companies need to understand the importance of adopting good risk management in the way that AFI has done. The firm's high standard has set an example which hopefully will be followed by other companies within the sector."
Under the Safecontractor scheme, businesses undergo a vetting process which examines health & safety procedures and their track record for safe practice. Those companies meeting the high standard are included on a database, which is accessible to registered users only via a website.