Following fundraising throughout 2016, AFI has now presented a cheque for £5,000 to the NSPCC.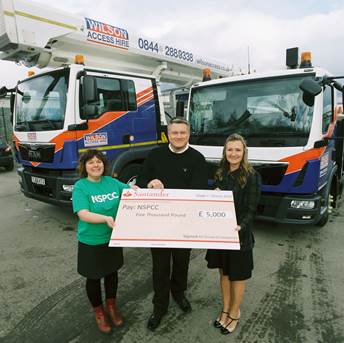 The NSPCC was AFI's chosen charity for 2016, and as part of the company's fundraising drive its Wilson Access truck and track mount operation donated £10 for every hire of a 57m truck mount carrying the NSPCC logo. AFI also organised a series of internal fundraising activities to support the NSPCC and encouraged employees and customers to take part in events organised by the charity.
Helen Verity, NSPCC Fundraising Manager for West Yorkshire, said: "I'd like to say a big thank you to AFI for supporting the NSPCC throughout 2016. With their generous donation we'll be able to reach more vulnerable children than ever before – whether that is in schools, through Childline, or in our therapeutic service centres across the country.
"It is vital that we give children the help they need when they are living through extremely difficult circumstances, and it is only the generosity of the public and companies like AFI that allows us to offer this support."
AFI Director Pete Wajner said: "We are delighted to have been able to make this donation to the NSPCC and support the fantastic work the charity carries out.
By having the NSPCC logo on our 57m truck mounts, we were able to make our customers aware of the charitable donation their machine hire contributed to. We received some very positive feedback from our customers and it was great to see the enthusiasm from the AFI staff when fundraising internally."