AFI has been awarded Investors In People Gold status, putting the company among the top 3.6% of recognised Investor in People companies in the UK.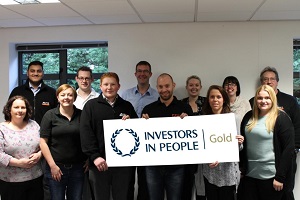 To achieve Investors in People Gold accreditation a company has to meet 165 evidence requirements – AFI achieved 180.
The Gold assessment covered all the operations of the AFI group of companies: HIRE: AFI-Uplift, Wilson Access Hire, AJ Rentals and Access Rental Gulf; TRAINING: UTN Training and Integrated Training Solutions; SALES: AFI Resale.
Mark Wem, Investors in People Assessor, said in his report on AFI: "Gold represents achievement of world class best practice and AFI is demonstrating this in many areas of people development. It shows a truly cutting-edge organisation is operating at the very highest levels of people management practice using Investors in People to drive the business forward. This award, together with implementing other standards around customer satisfaction, will ensure that it continues to be successful, providing a sustainable business model for the future."
AFI Director Geoff Gibson said: "We are delighted to receive the Gold award. It not only recognises the investment that AFI puts into our people but also the investment of our people in the company at every level. I would like to thank them all for the commitment they show day in and day out in making AFI a successful and progressive company."
AFI Training Manager Mark Jones added: "This award shows that anyone we employ or who wishes to work for us can be confident that they are working for an employer that is operating to a standard that ensures we will develop our workforce, invest time in engaging with our employees and make them feel a valued contributor to the organisation. In turn, our customers can be confident that their needs are being met by staff who are competent, highly trained and connected to the values of the organisation."