AFI has made a substantial investment to open its own paint shop and take all of its powered access machine spraying operations in-house to achieve a much faster process.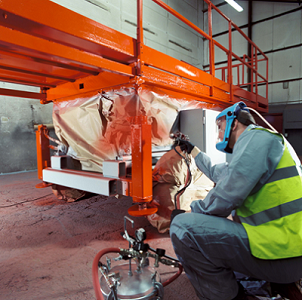 Nick Higgins, AFI Group Support Services Director, said: "Machines working on construction sites and in other tough environments are often operating in challenging conditions. Now that we have our own paint shop we can quickly get them in tip top shape again. Our hire fleet's current average machine age continues to be approximately five years, which is significantly younger than many of our national competitors, and by having our in-house facilities we can ensure that the fleet continues to look in excellent condition."
Mr Higgins said that when AFI used external suppliers, some of the machines were often out of action for months waiting for spraying. With the new facilities AFI will be able to spray 15 to 20 smaller machines each week.
Based near AFI's Liverpool depot, the new paint shop covers 10,000 square feet and has three newly-recruited employees – Rick Higham, Daniel Malone and Gary Cunningham. The premises have storage and preparation areas, a shot blasting booth and a spray booth.