As a Fleet Operator Recognition Scheme (FORS) Gold accredited company, AFI also meets all the requirements of the Construction Logistics and Cycle Safety (CLOCS) scheme.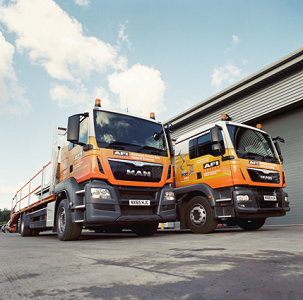 CLOCS is a nationally recognised scheme that is being adopted by a number of major contractors and construction companies. Designed to protect cyclists, it lays out requirements for traffic management both on and off construction sites for vehicles over 3.5 tonnes – so it applies to AFI delivery vehicles when transporting machines to sites.
Fleet operators of vehicles going onto a CLOCS site have to ensure that their transport operations meet the standard of an approved independent fleet management audit. The requirements include:
Side detection systems

Reversing sensors

Warning signs.
To demonstrate CLOCS adherence, an operator has to be accredited at FORS Bronze level, so AFI's Gold accreditation far surpasses all the requirements to allow their delivery trucks onto a CLOCS site.
CLOCS also requires that drivers have been on an awareness training course specifically aimed at vulnerable road users, eg the 'Safe Urban Driving' course. All AFI's London drivers have completed an appropriate course and training has now been rolled out on a national basis across all AFI depots.