AFI has been awarded the prestigious SafeHire certification quality mark, which is operated by Hire Association Europe (HAE) for the hire and rental industry.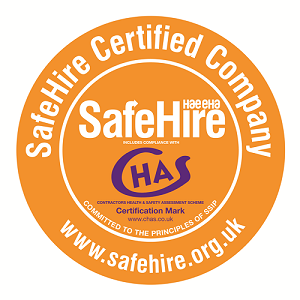 To achieve the certification, AFI underwent a series of rigorous inspections to confirm that its operations meet stringent safety and quality criteria. The audit covered aspects such as health, safety and welfare, environmental and quality management, training, and financial controls.
Brian Parker, AFI Business Development Manager, Technical Support, said: "This is excellent news for AFI. It demonstrates that we have the necessary robust internal procedures in place backed up by documentation. This ensures we are not only meeting but exceeding the highest standard necessary for our clients."
"Achieving SafeHire also means that we are now approved under the Contractors Health and Safety Assessment Scheme (CHAS). This will make it easier for us to apply for work within public and private sector organisations – being CHAS approved reduces duplication as suppliers compliance is accepted by all CHAS buyers," he added.
Hire Association Europe Managing Director Graham Arundell said: "This certification ensures that AFI is fully committed to looking after their customers by having safe equipment available for hire or rent. Our independent assessors have carried out a detailed examination of their operations, including a review of the servicing and testing procedures implemented to make sure that all equipment is safe before it is hired.
"They have also checked to ensure that all customers are provided with correct safety instructions. In addition, throughout the certification period, there is an ongoing assessment process to ensure that these high standards are being maintained."